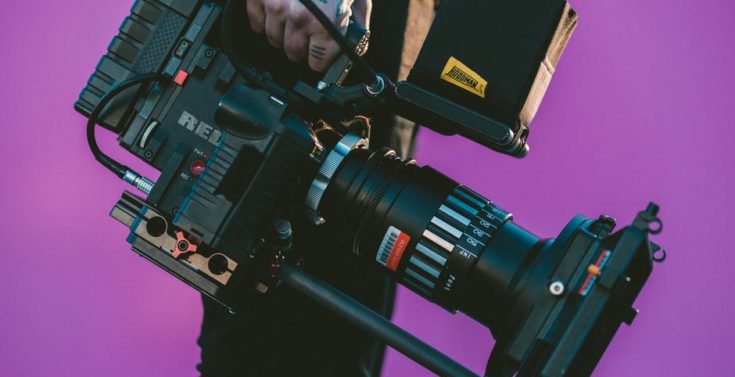 Play button in your web content
We are living in the world where people reach information only in one click. We have used to get an easy access to whatever we need. But what is more important is that we don't want to spend a lot of time or effort on it.
That's why long brochures, convoluted slogans, and lengthy advertisement is in the past. Bright images, catchy taglines, and creative videos are the mainstream in digital marketing. But, this time we are going to focus on the last one.
Video informs and entertains people, and good or bad, today most o the people prefer to watch a video rather than read a page of text.

– Lisa Lubin
Technically the use of video in the content is not unique. But it has gained an extreme popularity through last two years. The first reason why people drawn to video is an ability to visualize all the required information. There is no more need to write down the complicated description of a product. It is enough to make a video that features everything about the product. Believe, today's customers will likely spend 30 seconds on watching a video than two minutes on details. Seeing a product or service in action and how it is providing assistance is more effective with video because the audience tends to trust what they are seeing.
Another point of the video is being a star player in the content marketing is Youtube. In fact, it is the second largest search engine on the web. That is why videos have a direct impact on the search results. Not the last role is playing a fact that Google owns Youtube. Consequently, search engine algorithms favor a rich media which includes video content. Google has been constantly adjusting its algorithm to give its users a meaningful experience while searching. As a result, search results now prominently feature videos among top results.
A video is an effective form of communication that needs to be integrated into each and every aspect of your existing marketing efforts.

– James Wedmore
In case you do not rely on words, let's check the numbers! According to Syndacast, 74 percent of all Internet traffic in 2017 will be video. Moreover, it is proven that using the word "Video" in the subject of an email can increase open rates by 19 percent. Facebook has announced that video viewership doubled from 4 to 8 billion views per day. Also, Twitter videos and photos get the most retweets. This staggering growth highlights the immense potential of videos keeping viewers engaged and increasing viewership.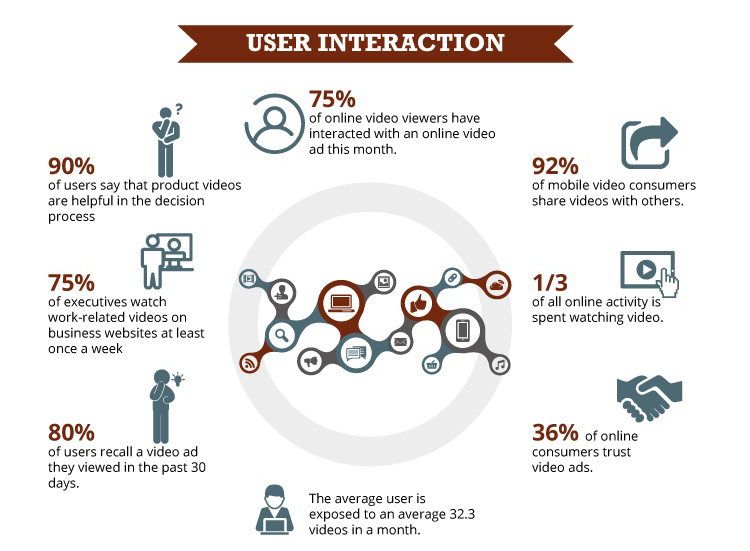 According to news shared by HubSpot:
        Embedding videos on landing pages can increase conversion rates by 80%.
        90% of customers report that product videos help them make purchasing decisions.
        According to YouTube, mobile video consumption grows by 100% every year.
        64% of customers are more likely to buy a product online after watching a video about it.
        87% of online marketers are currently using video content in their digital marketing strategies.
        A third of all the time people spend online is dedicated to watching videos.
We are operating in a world where one good video can lead to a massive social following.

– Mike Henry
A video is great for storytelling. Showing is always more engaging than telling. So let's think of what kind of story your business wants to share with customers. There are several purposes of using video in your marketing campaign. It can be generating awareness, encouraging conversation or creating a better engagement. Let's take a closer look at some categories of videos that can be involved in your marketing efforts.
There are different kinds and all sorts of names for it – animation, explainer, or corporate marketing videos. But whatever you call them, popularity on this kind of visual content is growing. Let's focus on the mainstream.
Homepage animated video
Basically, this kind of video can be a tutorial to your company's website or products and services you represent. It works because new guests do not like to read long explanations about services. It is easier to watch a video and to understand if your company is what they were searching for.  This video illustrates what it is like to use the service rather that describe features and benefits.  And the results? Studies show that home-page explainer videos can increase conversions by 300%.
Promotional video
Time after time businesses make promotions, organize an event or launch a new product. A promotional video can be an easy way to engage more customers into each of these activities. You can easily sign up customers for the promotion or make them want to visit your event. The only one thing is you have to show them what your event will look like. Tell in short what is your promotion is about. Or highlight the main features of the newly launched product. This kind of video is a great for sharing and posting on a blog.
Corporate video
Source: Outshiny India
This is a great way to show the customers all the insights of your business. People are going to work with your company whether they know that can rely on it. Corporate video generates a brand trust and builds a corporate awareness. Of course, it is important to realize that poor quality video can harm your business instead of helping it. Show audience your daily activities or how the work is being done. Prove that your company is a professional from A to Z.
Let's summarize. James McQuivey estimates that a single minute of video content is the equivalent of 1.8 million words. So why do you need to waste so many words? Find the way to show people the thing instead of telling them about it.